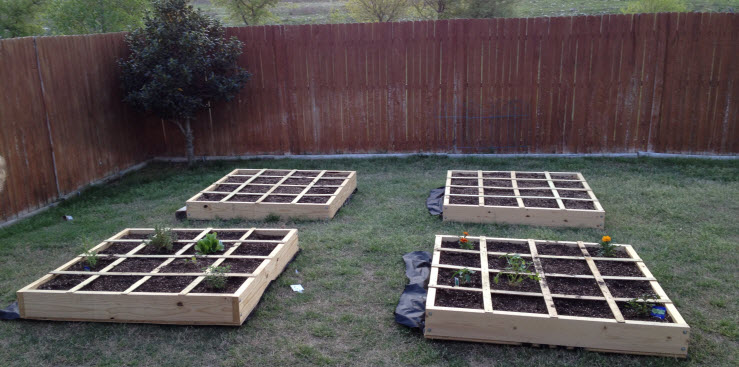 Last year, my wife asked me to build a square foot garden. Actually, she wanted me to build a few of them. I finally caved to the nagging, and I built four square foot gardens.
I'm the typical dude: I hate reading directions and/or instructions. So my wife read the books and told me how to build these things. They are 4-ft x 4-ft, with 2″ x6″ sides. Because I wasn't sure whether or not I would want to keep the square foot gardens in this location, I put a plywood bottom on each garden. That was a bad idea. Even though I drilled about 100 holes in the bottom of each box, they would not drain. And that would lead to a lot of dead plants. Because as I would learn, most vegetable plants like to "keep their feet wet" (quote from a friend of mine who gardens).
The soil in each box is actually a mixture of peat moss, vermiculite, and 5 different types of compost. My wife said that it would be liquid gold. I'm sure it was.
For me, my first square foot gardens were an amazing experience. What started as my wife's idea has turned into a passion of mine.
So that is my first post. I'm getting ready to start my 2013 garden, and it looks vastly different than this. Stay tuned for more!